How to order
How to order

you can select product and color on website and order by email or line

email: daruneeflower@gmail.com
Line ID: thongin_tippluk
Tel: +668-1473-5947 (Thongin)

How to sent the sales quotation

1. Send your sales quotation to E-mail : daruneeflower@gmail.com
2. Fax : 0-542-30751

Notes:
1. Theamount of the production
You can order any colour as you want but it'scolour differ from the stock you must order more than 1,000 flowers per color.

2. The price that we show you is the price for single color in a flower only. The price for double colours in a flower is higher about 20%.

For example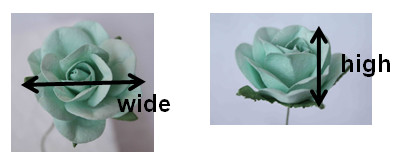 singlecolour flower double colour flower

3. The price doesn't include transportation fee.
4. How to scale the flower, example
Warning :
Please check the price before ordering.


Payment
1. Transfer money to account number 667-0-10396-6 Bangkok Bank Branch Chiang Mai, account's name SomprasongTipplok.
2. Send your payment bill to (E-mail) or fax on number 0-542-30751 and 0-542-30751
3. Don't forget to write your name-sir name, order number and your mobile phone